Fan friendly action!
The new face of wrestling in the Olympics.
I have to admit that I was shocked and ticked off when I heard that wrestling was being dropped from the Olympics. Along with Track and Field (known as Athletics around the world), wrestling is the most ancient and primal sport on the planet. It is two competitors in the ring with no implements and no excuses. I was not surprised and very glad when the Olympic committee reversed it's decision and restored wrestling's place in this athletic festival that is supposed to have as it's motto, "Citius, Altius, Fortius" which translates in English as "Swifter, Higher, Stronger". I mean if such "sports" as ballroom dancing, beach volleyball, and softball qualify, how could wrestling be left out? Anyway, it is back in, but read the article below. It's a sad commentary when wrestling has to change it's format to be more "fan friendly". Why not just invite the "pros" like basketball does? Let the WWE become the national governing body and we are set to go. They already go shirtless and have the raised the grand entry to an art. What will they think of next? Female track athletes competing in bikinis? On second thought, I guess we crossed those lines long ago. The Olympics is officially more about spectacle than pure athletics. No doubt now. I can only guess what changes might be made in Weightlifting in order to keep the Fortius in the games.
BUENOS AIRES – Wrestling is back in the Olympics, but its new life also will bring about a new look.
"We will change everything," said Nenad Lalovic, the president of wrestling's international federation (FILA). "The whole scenery of the venue." The red-and-yellow mat will go the way of the full Nelson, replaced perhaps by shades of blue.
"Our singlets are so old fashioned," Lalovic said. Freestyle wrestlers could wear fight shorts and a tight-fitting microfiber T-shirt. Greco-Roman wrestlers may even go shirtless.
Actor Billy Baldwin, who was part of wrestling's delegation, said he could see the change for entertainment value. "It's why beach volleyball is on for 17 hours in prime time and we're buried at three in the morning," he said.
When Baldwin asked a U.S. wrestler how she would feel about a new uniform, she told him: "I've gotta start working on my abs."
Taking the lead from the world of mixed martial arts, wrestling is thinking big and bold when it comes to showmanship. Staged weigh-ins, walk-out music, lighting, visual effects and video screen replays are being discussed.
FILA officials have had meetings with entertainment and broadcasting experts as well as potential sponsors to increase the sport's appeal.
"Of course we have external help for that because we are wrestlers — we know much, but not everything," Lalovic said with a laugh.
The changes will be rolled out gradually, but the big unveiling will be at the 2015 world championships held, appropriately enough, in Las Vegas. "Yes, the entertainment capital of the world," said Jim Scherr, who helped present the sport's bid.
But what happens in Vegas, won't stay in Vegas. "Las Vegas will be a big proving ground for the new ideas. Hopefully they'll be perfected there and then taken to Rio," Scherr said, referring to the 2016 Olympics.
Though the sport has consulted with MMA execs, don't expect wrestling to bring that sport into its fold. UFC stars frequently come out of college wrestling and there is a good relationship between the groups, but the sports are too different, FILA vice president Stan Dziedzic said.
"When you look at everything you learn as a wrestler, every rule is to be able to dominate your opponent but never to injure them," Dziedzic said.
Throughout its presentation, wrestling focused on one theme: "Wrestling is not a new sport, but the wrestling we are presenting now is a new wrestling," Lalovic said, "Though the seven months since the sport was dropped from the Olympics were stressful, wrestling emerged as a stronger sport. "The biggest value was to modernize our sport," Lalovic said. "This crisis gave us the strength to change."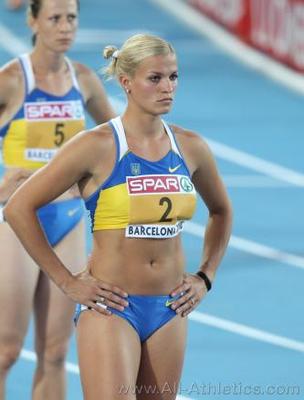 Track and Field would never consider altering it's uniforms or format to attract fans?
I guess we crossed that line long ago.