A shot of part of the weight room at Monument Valley HS in Kayenta, Arizona, Navajo Nation, USA
Upon graduation from BYU we headed south to the reservation. With a degree in Health/Physical Education, I took a job teaching.........Navajo Language, of course! I also had a minor in Native American Studies with a lot of hours in Navajo linguistics. It was a passion that began while I was serving as a missionary on the reservation. My wife and I left Provo in a Ryder rental truck with our two children and headed out to Alamo, New Mexico. It was a remote group of Navajos who hid out in the mountains of New Mexico during the long walk period and had been basically forgotten by the government until after WWII. When we arrived there, there were no paved roads, no telephone access, and mail was delivered to the trading post only on Tuesdays. We traveled the 30 mile dirt road to Magdalena to make phone calls and the nearest grocery store was 70 miles away in Socorro.
Our Gym at Alamo
Our school consisted of 12 portable buildings, one for each grade. I was hired to teach Navajo literacy. Everyone could speak Navajo. Many could speak English as well, and a few could also speak Spanish, but no one could read or write in Navajo. Actually Navajo is an oral language and has not been written for centuries, but an orthography has been developed using English letters to represent Navajo sounds. This what I was teaching children to read.
I brought a bar, a few hundred pounds of weights, and some homemade squat racks with me. Soon a section of my building was turned into a weight lifting club.
In the Strength and Health magazines that I was still receiving, I read about a new organization called the National Strength Coaches Association. It was started by Boyd Epley, the strength coach at the University of Nebraska. Even though I was not really employed as a strength coach, I wanted to be a member of that organization. I was hungry to learn all I could about training. It is beyond the scope of this post report an in-depth account of the origins of the NSCA, it's history is well documented elsewhere. But I got involved in the early 80's when the name was changed to National Strength and Conditioning Association. (Still known as NSCA)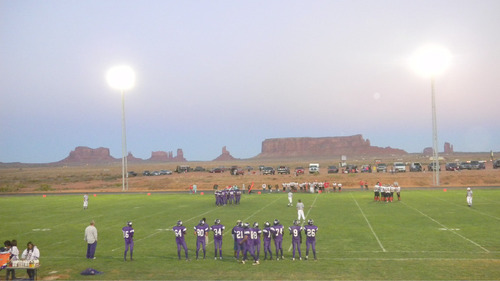 Football Game in Monument Valley
After two years in Alamo, we heard that a new high school was opening in Monument Valley. It was literally on the Utah-Arizona state line, but just on the Utah side. I was eager to get back into physical education so I applied and was hired there to coach football, track, and teach physical education along with some weight training classes. It was there that I really got involved in the NSCA and began attending clinics and conferences. I also published my first articles there. My old friend Greg Shepard put an article about our football team in his Bigger Faster Stronger Journal, then some other article followed. I also began to submit articles to the NSCA Journal for publication.
It was during that time that I began my masters' program in physical education with an exercise science emphasis at Northern Arizona University. Dr. Leo Haberlack, an NAU Hall of Fame track coach was the Dept. Chair and taught several classes that I needed. Once when I included some statements about weight training in one of my papers, he asked me where my references were. I said that I didn't have any references about those particular statements, but that I knew what I said was true from my own experiences. He said, "What makes you an expert?" I replied, "What does it take to be an expert?" He said, "If you get published, then you can be an expert!" So I decided that I would submit some articles on some of my ideas for publication. Andrew Fry, who was then an intern at the NSCA (and now is a distinguished professor and researcher in the field) was in charge of putting together the journal. He was kind enough to use some of my ideas and so Dr. Haberlack was surprised that I began to reference myself in some of my papers for his classes. Later as I finished my thesis, Dr. Richard Borden, who was Dean of the School of Health and Physical Education and later became the president of the NSCA, served as my thesis chair. He assisted my efforts to exhibit some scholarship qualities a great deal.
About that time, when the NSCA developed the CSCS certification, I was among one of the first groups to challenge and pass the exam. In those early days, the NSCA offered great opportunities to gain information through the journals, conferences, and networking with others of like interests. I really enjoyed my membership and the benefits that it brought.
Monument Valley HS, Kayenta, Arizona. Home of the Mustangs!
Downtown Kayenta looking down Mustang Blvd
In 1991 we moved 21 miles south of the state line to the other Monument Valley High School in Kayenta, Arizona and have been there since. Our weight room has grown and improved as we have moved three times around campus and now have a facility that is among the best anywhere. It was my opportunity to design it. I have had the privilege of serving as the Arizona state director for the NSCA for two terms.
As the years pass, the NSCA seems less relevant to people like me who are mainly interested in coaching athletes and hard core lifting. It seems that the organization has been hijacked by personal trainer types. While I am not against anyone who can make a living teaching correct training principles, there is a vast difference between training lay people on an individual basis and training a team of athletes who want maximum performance. So, in all honesty, I stay involved enough to keep my certification, but do not get too excited about NSCA activities anymore.
It has been a long haul since the early days of visiting the York Barbell Club and lifting on the Allegheny Mountain Team. Attending BYU was a life changing event. The sign at the entrance to the campus there says, "Enter to learn, go forth to serve." I hope I have in my 33 years in public education.
It has been a privilege to have been able to have met and received instruction and encouragement from so many Iron Game Legends over the years.
It is now my goal to pass along some of the knowledge and experiences I have been blessed to have.
Visit us on the Mustang Weight Room Facebook page.
Another view of the MVHS Weight Room.