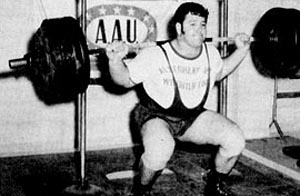 Don Reinhoudt lifting for the Allegheny Mountain Team.
I was a teenager when I entered my first lifting competition. Several friends and I had been training in our garage to get bigger and stronger for football, track, and just because we loved doing it. We had mostly homemade equipment, a bench made of wood, a homemade power rack made from some stuff my dad brought home from one of his construction jobs, and weights we collected from all over including the county jail where my Dad happened to be doing some work when some inmates tried to use a lifting bar to escape. The warden was going to dispose of the weights. My Dad asked if he could just take them and they became a large contribution to our garage gym.
As mentioned in the previous post, we had been to York and were inspired by the lifters and the magazines each month. We were excited when we saw a power lifting meet being advertised in the local newspaper, the Erie Times. We lived in the small lakeside farming community of Harborcreek, so we drove to the big city of Erie, a port city on the Great Lakes, to see some real lifting on a Saturday. As the meet progressed, we began to get excited. The weights we were lifting at home were very competitive with many of the competitors. We went home inspired and trained even harder. Months later another meet was advertised. We decided to go and try our hand at lifting. We packed our gym bags and headed for town.
In our naivety, we didn't realize that you had to register ahead of time. We showed up at the advertised time and told the lady at the door who was collecting admission that we wanted to enter. She gave us a quizzical look and told us to go back stage and talk to Les. That was my first meeting Lester Cramer, entrepreneur, promoter, and coach of the Allegheny Mountain team. When we approached Les, he sized us up, asked us if we knew how to do the lifts, and if we had money for the entry fee. We assured him we could do the lifts, but told him we didn't know anything about an entry fee. He asked us how much money we had and we pooled together maybe $20.00 or so between us. he told us we would have to buy an AAU card as well. As I remember, it cost $1.00 for a year back then. He had us sign some forms, took our money, and told us to go and change. We were entered into our first meet. We didn't know much about proper warmup timing, choosing attempts, or anything like that, but the other lifters were very helpful to us and we all successfully totaled. A few of us even actually placed high enough to get a trophy.
Les noted that we actually had some potential and invited us to train at his Allegheny Mountain gym. The Allegheny Mountain Gym was actually his basement which had a separate outside entrance that he left open 24-7. You never knew who would be there, sometimes it was long-haired bikers with chains and tattoos, other times it was clean cut police officers. Men from all walks of life shared the common love of lifting in that basement. Les's wife eventually divorced him. In hind sight, I imagine his open door policy probably didn't help their marriage much.
We would continue to train in the garage, but once a week or so we would make the trip across town to train at the gym. Our garage only had the old exercise type weights with the 1" holes while at the Allegheny Mountain gym there were the revolving olympic style bars and weights. We became members of the Allegheny Mountain WeightliftingTeam which had an unbeaten streak that lasted over a decade. The team consisted of men from a wide area, some of whom we only saw at meets. There were Olympic lifters and some bodybuilders, but powerlifting was the main emphasis although some of us dabbled in all the disciplines. This was before the days of "supportive gear"There were some world class lifters such as Don Rienhoudt of Fredonia, New York; a world champion, hall of famer, and winner of the world's strongest man competition as well. He was a really nice guy who took the time give us pointers on technique and training. He took a genuine interest in our progress.
Don Reinhoudt competing in an early WSM competition.
Another great lifter was Tony Fratto of Butler, PA, just north of Pittsburgh. He was an amazing specimen and a charismatic character who excelled in Weightlifting, Powerlifting, and even won some bodybuilding meets as well. He also was a world champion and took time to encourage and teach us.
Tony Fratto squatting at the '73 World Championships.
Rich Collarelli was a local police officer who set a world record in bench press. 465 at 181 bodyweight if my memory is correct. Of course that was wearing a T-shirt, not the "supportive gear' that is in vogue today.There tons of other guys who never won major championships, but lifted well at the regional level. Joe Orengia was a great lifter then, and has continued to lift, sponsor and promote meets even today in the Erie area. He was an iron worker back then. He had mechanical disadvantages (although still credibly strong) in the squat and bench press, but had a tremendous deadlift. Over 600 at 165 if my memory hasn't failed. We would travel to meets throughout the area to places like Pittsburgh, PA, Steubonville, OH, and Wheeling, WV. Joe always warned us not to ride with Les as he would leave late and then drive 100 mph to get there on time. Joe drove a Mopar Cobra and everyone wanted to ride with him.
Recent photo of Joe Orengia, still lifting and owner of Joe's Gym in Erie, PA.
Les was really a genius in a lot of ways, but never quite got things together to be a business success. He invented the original Jack Racks, where he welded car jacks into the middle of squat rack uprights, which allowed one to change the bar height without unloading the bar. He also manufactured some isokinetic type machines which used automotive shock absorbers as resistance. He published a powerlifting magazine for several years and bought the old Jackson Barbell Company which Joe Orengia later purchased then sold to Ivanko. Les also taught me about cycling workouts, what we now call "periodization". He helped me organize my workouts and make a long range plan with variations in volume and intensity. He was ahead of his time in many ways. He is still involved in lifting and has moved around the country since then.
Les Cramer lifting in a recent Master's meet.
It was Les who first told me about Dianabol. Understand it was not illegal at the time and a lot of the lifters were trying it out. It was considered as some kind of super supplement. He never pressured us to take it, but let us know that it was available. Joe Orengia warned us to stay away from it. Being a teenager who had little money to begin with, the cost was prohibitive. Besides, I was pleased with the progress I was making and still believed that Hoffman's Hi-Proteen was all I needed. In hindsight, I am glad that I never took that road.
A lot of other great lifters and bodybuilders competed in meets we attended as well, names like Vince Anello (deadlift over 800 at 181, world record), Lamar Gant (multiple world championships), Larry Pacifico (multitple world championships), Tom Platz (Mr. Olympia competitor), and Jim Manion (national physique chairman) should be familiar to any serious student of the iron game and they competed in many of the meets we lifted in as well.
After I graduated from high school, I left Pennsylvania and never really returned except for brief visits now and then. But the foundation of lifting I gained there has served me well. I am proud that I could be a member of the Allegheny Mountain Team for awhile.