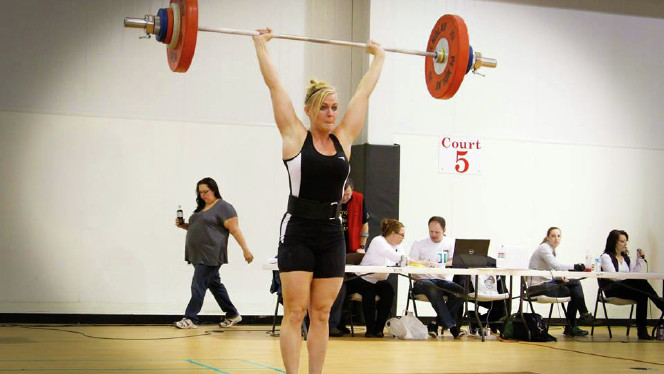 Brittany lifting in a local meet.
Another nice story about a Mom lifting in Utah. Earlier this Summer we had a post about Darcie Warren, a mother of six, who lifted in the USAW National Championships in July. This shows several things in my opinion.
First, it is never too late to start. Brittany got a late start, but still has been able to benefit.
Two, physical training can enhance and strengthen all areas of our lives. It gives confidence and purpose.
Third, you don't have to be a world class lifter to reap those benefits.
Fourth, training yourself is the best way to influence your family train.
The article says she is training 6 days a week for 2-3 hours a day. Personally, I don't think that much is necessary. Especially for someone her age. However, having dealt with news reporters who don't really understand what is going on, this may not be the actual situation. Whatever the case, great job and best wishes for your future success.
BOUNTIFUL — Brittany Riesenberg has only been weightlifting for four years, but she is already set to make her mark on the sport.
Riesenberg, 35, qualified for the 2014 World Masters Weightlifting Championships in Denmark and is hoping to break three world records there. She won first place at the National Masters Championships in Louisiana earlier this year to qualify for the world competition that starts Aug. 30.
"It's a really demanding sport," she said. "It's not like leisure where you can train when you want. You have to follow a program and stick to it to compete in it."
The mother of four was training for long-distance running at a YMCA in San Diego when she was approached by a weightlifting coach. He told her she had a great build for weightlifting and should consider giving the sport a try.
It took several months of persuasion before she decided to give weightlifting a shot, but after only a few months of training the coach told he she was ready to win. She took third place at her first local competition in October 2010.
She moved to Utah shortly after the competition and joined a team at the Praxis Olympic Weightlifting Center in Murray, where she trains six days a week for 2-3 hours per day.
"I like being able to track my progress and see how much stronger I can get every time I work out," she said. "It's motivating to be able to see your progress."
Riesenberg said her personal record is 76 kg, about 168 pounds, for the snatch and 95 kg, about 210 pounds, for the clean and jerk. The current world record is 71 kg for the snatch and 95 kg for the clean and jerk. She hopes to break both of those records, plus the total combined record at the world championships: "I have done it in training, so I'm hoping to be able to do it in competition," she said.
Balancing family life with training can be delicate, according to Riesenberg. Her children are 14, 11, 8 and 6 years old.
"It's really hard," she said. "I get a lot of help from my mother-in-law to watch my kids and take my kids places while I'm busy training. I really wouldn't be able to do it without her."
Riesenberg said her family enjoys following her progress and her oldest child is starting to take an interest in weightlifting as well.