The title of this post is somewhat misleading. It sounds as if obesity is not a problem. Of course we know it is. We also know that inactivity and obesity go hand in hand. That is the point of the article. The author suggests that since inactivity is the root of obesity, that we focus on increasing activity rather than focus on calorie intake. I have to agree. To paraphrase scripture "exercise covereth a multitude of (nutritional) sins". The ideal is to move a lot and eat good food. But in my humble opinion and experience, eating even great food without physical activity can still lead to obesity and related problems. On the other hand, a really, really poor diet and way too much of the wrong stuff cannot just be exercised away. A wise person will give consideration to both sides of the equation, eating and exercising, but I tend to agree with the author that lack of activity in our modern world is even a bigger epidemic than poor food choices. The Warrior lifestyle means making time to move everyday and choosing activity over inactivity. It also means teaching our children good exercise habits and teaching and encouraging physical activity. The best way to show your children that you love them is to spend time with them doing physical things. They will just think that it's fun now, but years from now they will be most grateful for the heritage of health.
The world is in the grip of an obesity epidemic. And yet obesity is not the biggest problem. Evidence suggests that it is not the calories we consume that we should be really worried about, it's our inactivity.
Globally, the number of people who are obese has more than doubled in the past 30 years. The World Health Organisation estimates that 1.9 billion adults are overweight, 600 million of them obese.
In the U.S., 36 states have obesity rates of 25% or more and one in three adults are obese.
It's not just adults. The WHO estimates 42 million children under five are overweight or obese. And nor is it a rich country problem: obesity is on the rise in low and middle-income countries too.
Obesity is a serious threat to health. It is a major cause of cardiovascular disease – heart disease and stroke – itself the biggest cause of death worldwide. It is also a risk factor for diabetes, musculoskeletal disorders such as osteoarthritis and some cancers. More people worldwide die from being overweight than through being underweight.
But it is not obesity that should be a biggest concern, it is the lack of physical activity, and it is schools that are on the frontline.
Increasing urbanisation, desk-bound jobs and a sedentary lifestyle all mean we are getting much less exercise than we used to, despite our gym memberships. And the problem starts in childhood.
The U.S. Department of Health and Human Services recommends that young people aged six to 17 take part in at least 60 minutes of physical activity per day, but a 2013 survey found that only just over a quarter met this target, and 15% did not manage an hour of activity on any of the preceding seven days.
In the U.K., only half of seven-year-olds are active for 60 minutes or more, while half are sedentary for 6.4 hours or more each day. Worryingly, almost a quarter think playing a computer game with friends counts as exercise, according to a survey from the Youth Sport Trust.
And the hoped-for legacy of the 2012 London Olympics has not borne fruit, with falling sports participation.
This lack of exercise comes despite the Academy of Royal Medical Colleges describing physical activity as a "miracle cure" able to treat or prevent a range of conditions, from cancer to dementia.
It is clear that the decline of sport in schools is a key factor in this epidemic of inactivity.
More than a quarter of teachers in primary schools in the U.K., which teach children aged four to 11, do not feel qualified to teach sport, according to a recent survey by Virgin Active.
The survey also found that teachers thought two in five pupils left school with a negative view of sport and without the movement skills to effectively engage in physical activity.
The results have prompted a year-long program to help teachers improve the state of sport in schools. The Active Inspiration campaign, which unites academics with gym operators Virgin Active, aims to show teachers how sport can be taught to inspire a love of physical activity.
Schools cannot do this on their own. Parents must be on board to encourage their children put down their tablets and get active. But schools have a crucial role in instilling a love of sport and developing active habits that could last a lifetime.
It is clear there is a long way to go. And in case the obesity/inactivity nexus could appear to be a chicken-and-egg situation, a recent study published in the International Journal of Obesity suggests otherwise.
Researchers found that children's BMI had actually fallen from the levels recorded in 1998. This should have meant today's children are fitter than the previous generation, but in fact their fitness – measured using shuttle runs – had fallen markedly.
Depressingly, the researchers concluded that the least fit 10-year-old in the class in 1998 would be among one of the five fittest in a class today.
In fact, studies also show that we have been getting fatter while the amount of calories we consume has been on the decline.
The hysteria over obesity has concealed the real problem, which is that we are less active than ever before. We have been so worried about getting fat that we have forgotten to get fit.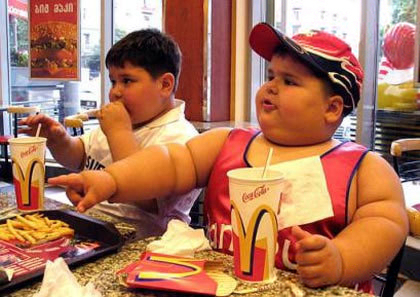 Don't contribute to the fast food/ inactivity epidemic.