Tommy in a familiar place, on top of the victory podium.
To regular readers of our site, Tommy Kono is no stranger. We have featured and mentioned him many times over the years. He is one of the greatest lifters of all-time, a humble gentleman, and a great example of dealing with adversity. There is so much that I could write and still not do justice to his accomplishments. It was my privilege to meet and talk with him several times His early articles "The ABC's of Weightlifting" which appeared in Strength and Health Magazine in the late 60's and early 70's inspired and tutored a generation of lifters, myself included. He coached lifters in several nations including Germany and Mexico as well as the United States. Tommy passed away yesterday in Hawaii. Below is a bare bones outline of some of his accomplishments. I encourage you to read his two books on Weightlifting.
At the bottom is a piece he wrote on respect in the weight room.
Tamio "Tommy" Kono (June 27, 1930 – April 24, 2016) was a U.S. weightlifter in the 1950s and 1960s. Kono is the only Olympic weightlifter in history to have set world records in four different weight classes:[1] lightweight (149 pounds or 67.5 kilograms), middleweight (165 lb or 75 kg), light-heavyweight (182 lb or 82.5 kg), and middle-heavyweight (198 lb or 90 kg).[2]
Early life
Of Japanese descent, Kono was born in Sacramento, California, on June 27, 1930. Kono's family was relocated to Tule Lake internment camp during World War II. Tule lake camp was in a very isolated area in the desert in northern California.
Sickly as a child, the desert air helped Kono's asthma. It was during the relocation that Kono was introduced to weightlifting by neighbors including the late Noboru "Dave" Shimoda, a member of the Tule Lake weight lifting and bodybuilding club and brother of actor Yuki Shimoda and his friends, Gotoh, Toda, and Bob Nakanishi. After 3½ years they were released and Kono finished high school at Sacramento High.
Olympic weightlifting/bodybuilding career
Kono was a gold medalist at both the 1952 Summer Olympics and 1956 Summer Olympics, and a silver medalist at the 1960 Summer Olympics. Kono won the World Weightlifting Championships six consecutive times from 1953 to 1959, and set a total of 21 world records. Kono is also a three-time Pan American Games champion in 1955, 1959, and 1963.
In 1976, Kono was head coach of the United States' Olympic weightlifting team in the 1976 Summer Olympics in Montreal.
Kono was also a successful Bodybuilder, winning the Iron Man Mr. World title in 1954.
In the 1970s Kono moved to Hawaii, where he has lived ever since. On his home visits he holds workshops in weightlifting.
In 1993 Kono was elected to the International Weightlifting Federation Hall of Fame. Kono is also an inductee to the Association of Oldetime Barbell and Strongmen (A.O.B.S.) Hall of Fame.
Death
Kono died on April 24, 2016 in Honolulu, Hawaii from complications of liver disease, aged 85.
Achievements and titles
World finals
1953 gold medal
1954 gold medal
1955 gold medal
1957 gold medal
1958 gold medal
1959 gold medal
Olympic finals
1952 gold medal
1956 gold medal
1960 silver medal
IF I HAD MY WAY
by Tommy Kono
If I had my way, the weightlifting area would be treated like a "dojo" as the martial arts students would use their area and equipment for training.
The entire area would be treated with respect from the bar to the barbell plates, from the chalk box to the platform. The barbell bars would never have the soles of a lifter's shoe get on it to move or spin it, no more than you would place your shoes on the table top. The bumper plates would never be tossed or stepped on.
The barbell will always be loaded with double bumper plates on each side whenever possible to preserve the bar and the platform. The purpose is to distribute the load over two bumper plates instead of one with an assortment of small iron plates.
The barbell lifted would never be "thrown" down or dropped from overhead except for safety reasons. The hands will guide the bar down in a controlled manner as it is in a contest.
Anger from a failed lift will be controlled so no four-lettered words would be used. Instead the energy for the anger will be directed for a positive result.
A good Olympic bar will never be used on a squat rack for squatting purpose. There is no need to use the good bar on the squat rack where it could ruin the knurling or cause the bar to be under undue stress, damaging the integrity of the quality of the bar that makes it straight and springy.
When a lifter finishes using the area for training, it would be left neat and clean with the barbell bars and plates properly stored.
Imagine how it would be if you did not have the gym to work out in and had to go to one of the spas, health clubs or fitness gym to practice Olympic lifting.
Imagine if you did not have a "good" Olympic bar and bumper plates for training.
Imagine if all the equipment was your very own and you had to replace it if you or someone damaged it by abuse - the money coming out of your own pocket.
Treat the Olympic barbell bars, bumper plates, platforms and any items used for training or competition with respect. Development of a strong character begins with respect even for innate objects.
Character Building begins with Respect and Responsibility.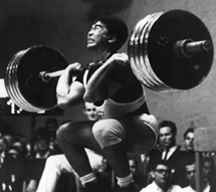 Lifting


A recent picture
In physique competition